China
In the Fall of 2016, I spent a month in China on a Zhi-Xing China Eisenhower Fellowship. I visited five large cities: Beijing (Oct 14-30), Shenyang (Oct 30-31), Shenzhen (Oct 31-Nov 3), Hangzhou (Nov 3-6) and Shanghai (Nov 6-12). It was an incredible opportunity to experience a country in transition and see how an ancient culture has evolved into a socialist-market economy (a single party system with a thriving private sector.)
My Fellowship focused on Smart Cities.
My objective was to learn about China's approach and identify best practices. I had the great fortune to meet with some amazing executives, entrepreneurs, economic development professionals, university professors and subject matter experts. In addition the other eight Zhi-Xing Fellows are just awesome, smart, FUN people. I loved learning from both Chinese and Americans who each provided so much insight and information, challenging my assumptions on every level.
Although the schedule was intense, there was time to explore each city, see historic and important sites and truly appreciate this magnificent country. Here are some (curated) highlights - both professional and recreational. A tremendous thank you to Chinese Ministry of Education, the CEAIE, the extended team that made it all possible and of course the Eisenhower Fellowships leadership (staff, board and alumni.) I now really get it that it is a family - and it's an honor to be a part of it.
SMART CITY TAKE AWAYS
China began implementing Smart City projects as early as 2010 and so they are well on their way (and way ahead of the US). The first formal list of national Smart City pilots in China was published in January 2013 by the Ministry of Housing and Urban-Rural Development (MOHURD) and two years later, there were more than 285 pilot Smart Cities and 41 special pilot projects. The central (federal) Chinese government published a set of guiding principals that prioritized Smart Cities and encouraged all participants to speed up deployment. A National New Urbanization Plan (2014 - 2020) is additional proof that connected tech, 5G, IoT, and data-driven innovation are the chosen pathways forward to continue to modernize the country, move millions out of poverty, encourage global commerce and focus on sustainability. There are lots of lessons here for the US and countries around the world. If you're interested in reading more, please take a look at the articles above and more to come.
TOP NEWS: SMART CITIES & CHINA
BEIJING
We began this experience as a cohort of nine and were graciously welcomed by our hosts with a wonderful dinner and reception. We saw Beijing by bus and over the next several days enjoyed fascinating lectures on Chinese economic strategy, emerging legal structure, financial system, culture and more from leading professors at Renmin University. One of my favorite lectures was by Professor Wang Yiwei on the One Belt One Road initiative. He wrote an inspiring book on the subject - highly recommend.
The next week we broke into individual meetings that were customized to our area of study. I met with the China Smart City Industry Alliance, Ministry of Industry & Information Technology, the US State Department, the Great Wall Club, Intel Maker Space Accelerator, ZTE Corporation, Tsinghua University, X Lab, Garage Café and the US China Business Council.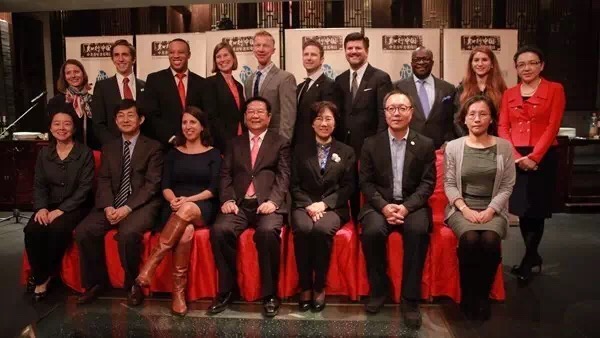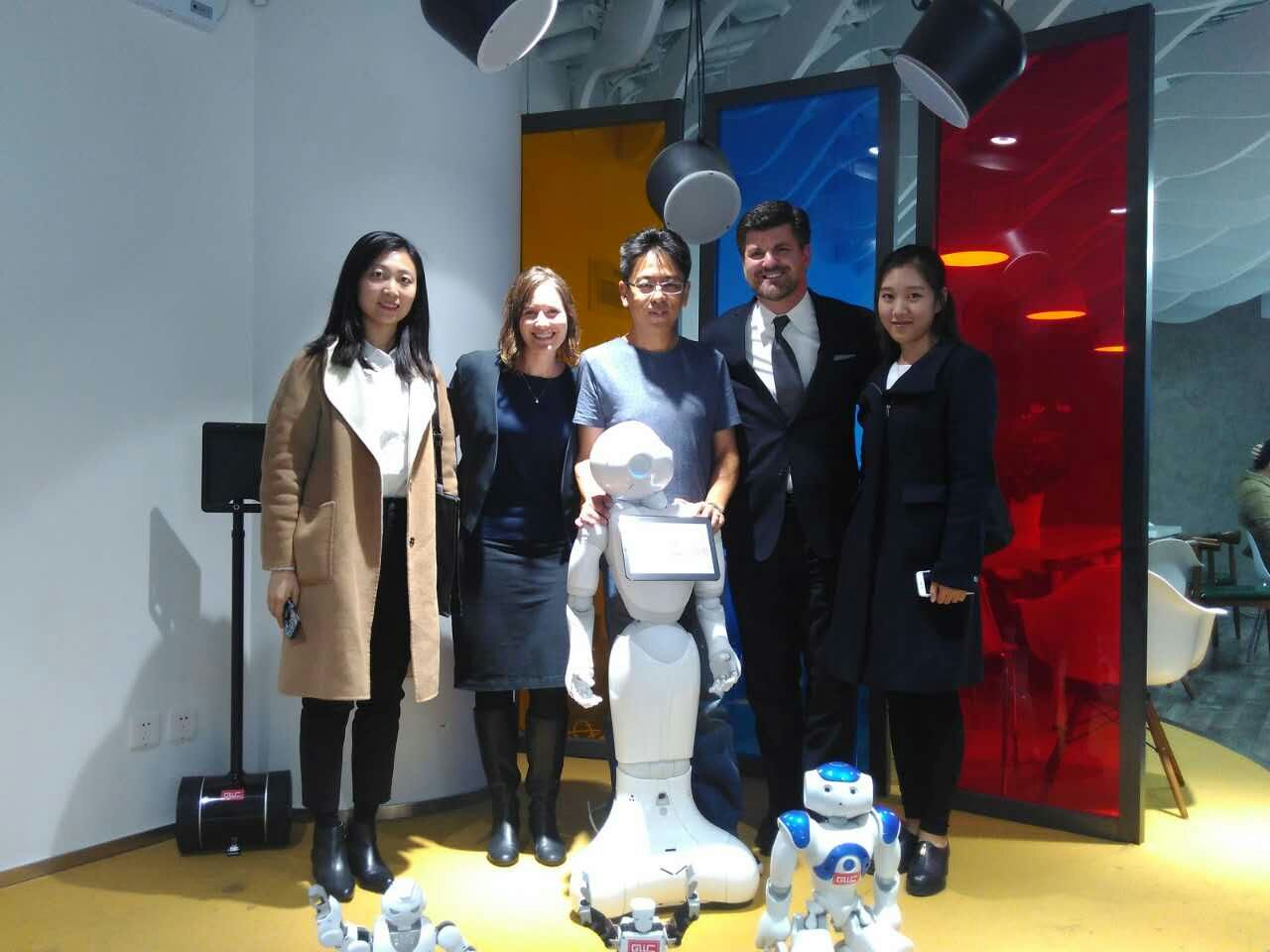 Dutch designer Daan Roosegaarde and his team have created the world's largest smog vacuum cleaner.
BEIJING IN THE OFF HOURS
The Forbidden City, with its 980 buildings, was the place of emperors from 1420 to 1912 and was the center of government for almost 500 years. Here is a look inside and some fun facts about this spectacular place.
-- Summer Palace (built 1750 -1764 / rebuilt 1900s)
-- Tiananmen Square flanked by the Monument to the People's Heroes, the Great Hall of the People, the National Museum of China, and the Mausoleum of Mao Zedong.
-- 798 Art Zone rows of decommissioned military factory buildings that are now galleries, shops and creative spaces.
-- Hou Hai a cool place to wander - manmade lake lined with willow trees and surrounded by hutongs, shops, and cafes.
-- Lama Temple, a Tibetan Buddhist center and one of my favorite visits. Taking pictures of praying or Buddhas didn't feel respectful so here are some outside shots.
-- The Great Wall of China is the world's longest human-made structure and stretches more than 4,000 miles. It was originally created in the 5th century BC to protect the northern border. Infrastructure in modern-day China looks much different but is equally impressive. There is more light rail track in China than all other countries combined. (Yes you read that right.) And the same goes for digital infrastructure - they are ready for 5G deployment and already have substantial Smart City projects in place in more than 300 cities. China is all about infrastructure on a massive scale.
SHENYANG
Shenyang was the northern-most city I visited which means it was also the coldest. But the snow and sleet were worth it as there was a great meeting with executives at Neusoft, an IT and software solutions company that was the first to be publicly traded in China. We also had time to stop in Lao Bian Dumpling for a great meal.
SHENZHEN
Wow. That is the only word to describe the experience that was Shenzen. The city is incredible and a haven for innovators. The four days were fast and we packed meetings in with some of the top connected tech companies in the world - Huawei, Tencent (home of WeChat) and Royole, . Plus a trip to the Tian An Cyber Park where they are building a model life+work city that houses thousands of startups including ZoneCharge which makes our favorite electronics wireless and Alsrobot, which provides maker kits for kids.
HANGZHOU
Whenever I told people I was heading to Hangzhou, they would consistently say, "that is our most beautiful city." They were right. A "small" town of 9 million, Hangzhou is built around waterways and eco-friendly zones. It is easy to navigate and just lovely. The home of the most recent G20 Summit, they understand global collaboration and are all about Smart Cities. Their economic development policies are pro-innovation and have cleared a pathway to incentivize entrepreneurs and welcome Westerners.
SHANGHAI
There is so much to say about Shanghai. Definitely the most Western city and a haven for expats. With 24+ million people, it is city that seems like the possibilities are endless. After a full four weeks in China, it was a wonderful place to pause, reflect and soak up the incredible journey. I limited the number of meetings I had there but of course made time to visit the first Impact Hub in China and had the opportunity to meet with a great start-up well on its way to being a huge contender in the connected-home market.
Food
You learn a culture by its food and there is no better place to see a more diverse reflection of a country than in China. It was delicious, fresh and while sometimes strange, a really cool adventure.
I now have an addiction to Chrysanthemum tea which I brought plenty of back to Austin. But I'm fine leaving the duck blood soup and scorpions-on-a-stick in country...
MOMENTS
I wasn't able to film during my meetings but I tried to capture as much of "everyday China" as I could with video. This is a random assortment but hopefully some interesting insight into this incredible country.